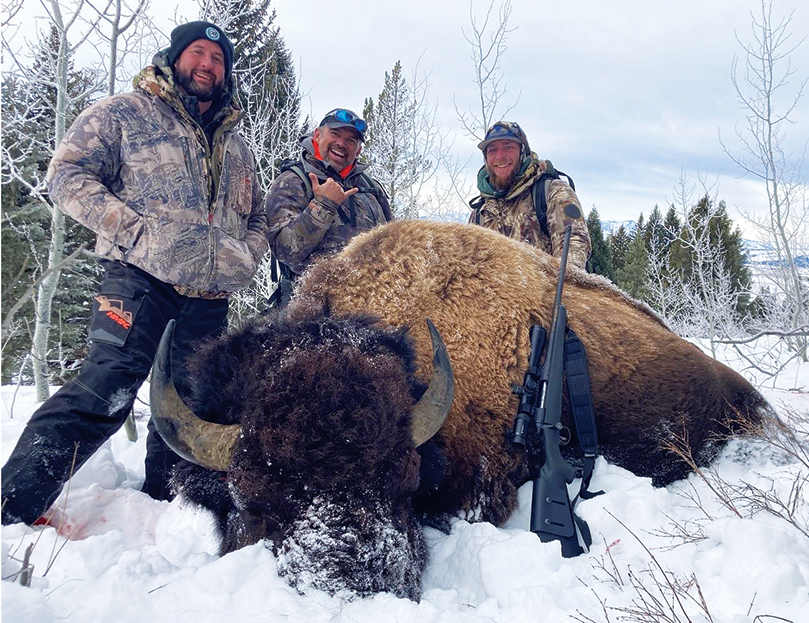 Our Team
Tag 'N Drag has the knowledge, experience, manpower, horsepower, and equipment necessary to assist you with your hunt of a lifetime. Hunts are filling quickly so book early to reserve your dates! If you have any questions regarding our services please call Ralph Greene at 307-248-1490. Visit our photo gallery for previous year success.
We are  permitted to offer hunts and retrieval services on the National Elk Refuge and the Grand Teton National Park outfitting and big game retrieval services for RESIDENT and NON-RESIDENT sportsmen and women hunting in the National Elk Refuge and Grand Teton National Park near Jackson Hole, Wyoming. We specialize in guided bison hunts with over 60 years of combined hunting/guiding/retrieving expertise to assist you during your hunt.
If you plan on pursuing a Boone and Crockett bison we invite you to contact us. We can assist you with many of the details from the application process to the recovery of your game.
Tag 'N Drag Game Retrieval Services are authorized by the National Elk Refuge to offer fully guided bison hunts and game retrieval services. We are familiar with the park, forest, and refuge boundaries; and the movements of the wild bison herd. We also have draft horse teams to retrieve your bison from areas closed to motorized travel, as well as specialized equipment to efficiently retrieve, field dress, and load your trophy onto your truck, trailer or nearby processing plant.
Visit our photo gallery for previous year successes.
The Grand Teton National Forest and National Elk Refuge Buffalo Hunt license is your once-in-a-lifetime opportunity to hunt the wild, free-ranging bison near beautiful Jackson Hole. You'll want to begin planning and preparing for your adventure to insure a successful and enjoyable experience.